Outstanding Culinary Experience
At Gennadi Grand Resort you will find a restaurant or bar for any taste: from casual Mediterranean classics, to pool-side delicious street food, to internationally enthused breakfast delights, luxury private bars and modern dining, we cater all your needs, with premium, locally sourced ingredients, intricately plated by our executive chefs.
Choose among our wide variety of meal types and select the independence of a bed & breakfast board, half board or the carefree all-inclusive concept. All-inclusive guests can also take part in the Dine Around Program, which allows guests to enjoy dinner at 3 different theme restaurants of their choice per week during their stay at no extra cost by swapping their dinner at Φiloxenia Main Restaurant.
Start your days and evenings off right with classic island dishes and drinks, discover regional favorites or exotic flavors and let the atmosphere of the Meditteranean seduce you with its laid-back vibe and sophisticated charm.
Operating hours are seasonal and subject to change. Please contact the reception upon check-in. Charges may apply depending on the meal plan.
For all a la carte restaurants reservation is required, at least one day in advance.
Dress Code: Long trousers for gentlemen for dinner at the Main Restaurant and A La Carte Restaurants of the resort.
Type: Main Buffet Restaurant
Φiloxenia Main Restaurant
Mediterranean classics in a cosy atmosphere
A relaxed, yet exciting setting, open for breakfast, lunch (with a buffet), and dinner, with a menu that features top-quality, locally-sourced ingredients. Breakfast at Gennadi Grand Resort's Φiloxenia Main Restaurant offers something for everyone, no matter what you're craving: healthy and hearty energy-boosting options, fresh fruit, carefully selected cold-cuts and cheese deli, a mouthwatering pizza-pasta stand as well as alternative choices for special diets, such as vegetarian, vegan, and gluten-free.
Dinner here is a stress-free laidback experience, featuring Mediterranean staples paired with contemporary international dishes, and an exceptional wine, beer and drinks list.
A breezy island-inspired dining experience for palate and soul!
Φiloxenia serves from 07:00 to 10:30 and from 19:00 to 21:30 daily.
Late-Riser Breakfast: from 10:30 to 11:00 – Enriched Continental Buffet
Early Breakfast: reservation required till 19:00 hrs, one day in advance
Lunch (with a buffet): from 12:30 to 14:30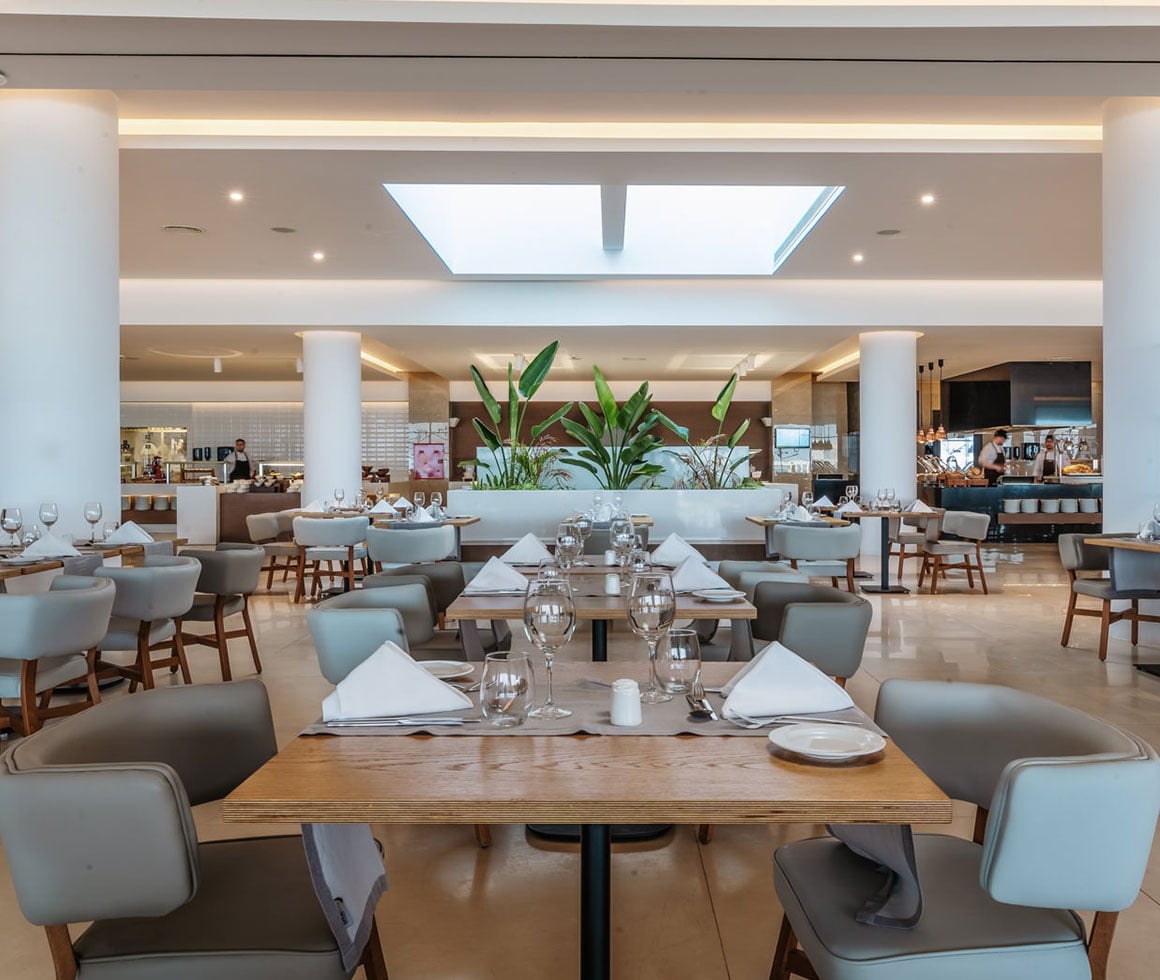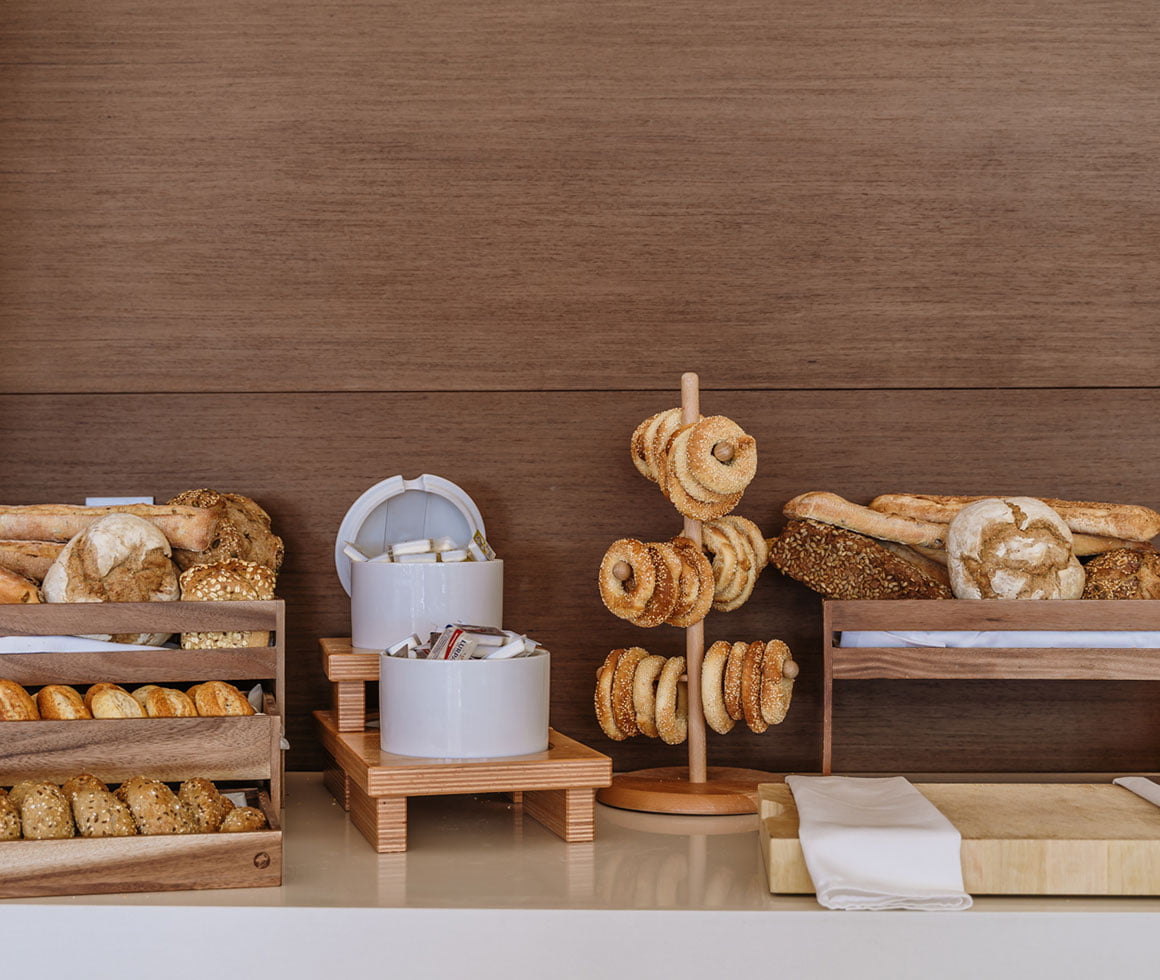 Serves: À la carte Breakfast
Level 2 Exclusive Breakfast Restaurant
Going over the top for you!
On the top floor of the Gennadi Grand Resort you will find the exclusive Level 2 Breakfast Restaurant that features delicious home-made treats and premium breakfast options for the guests of Suites and Two-Bedroom Suites (not valid for Double Rooms and Junior Suites).
Enjoy the luxury of privacy in the breezy sunkissed top floor and try local organic food paired with endless views and fresh drink options.
Level 2 Exclusive Breakfast Restaurant operates daily from 08:00 to 11:00
A minimum stay of 7 nights is required for a 2-times visit in Level 2.
Guests staying at other room categories may also enjoy Level 2 with extra charge, upon availability
Type: Casual Pool Restaurant
Blε Pool Restaurant
Refreshing drinks and invigorating bites by the pool. Dishes for lunch and refreshing drinks are just a breath away from your sun-bed.
Let the warm sun wash over you and when you feel like having a bite, just head over to Ble Casual Pool Restaurant for an energy boost by the water.
Sink at the comfortable chairs and while away the hours with a refreshing cocktail in hand, while sunbathing. Savor the moment, relish the flavors and make the most of every mouthwatering bite.
Blε Pool Restaurant operates daily from 12:30 to 16:00 (last order 15:45)
Serves: Snacks & Beverages
Aλati Beach Deli Restaurant
Drink up the sun at Αλati Beach Deli!
Enjoy cool refreshments and snacks at the comfort of your sunbed! At Αλati Beach Deli we offer a wide selection of sandwiches and cool bites with premium quality ingredients, juicy wraps and mouthwatering fruit bowls, carefully put together by our expert staff.
Drink up the sun but don't let it drain you – quench your thirst with our cool drinks selection and feel refreshed and invigorated in no time at our self-service vintage canteen.
Aλati Beach Deli Restaurant operates daily from 12:00 to 18:00
Type: Casual À la carte Restaurant
Ten2One Restaurant
Mediterrenean fusion in a welcoming environment
Ten2One is a casual restaurant at Gennadi Grand Resort with a strong focus in well-being for body and soul, serving Mediterranean oriented dishes for lunch and dinner. It will definitely become your go-to culinary hot spot during your vacation, for relaxing lunchtime or a romantic dinner, paired with an invigorating, thirst-quenching drink, beer, wine or cocktail.
Enjoy absolute relaxation in our welcoming, alternative yet comfortable environment!
Ten2One All Day A la Carte Restaurant οperates daily from 12.30 to 15.00 (last order 14:45) and from 19:00 to 23:30 (last order 22:30).
Fine Dining, Degustation Menu
Edesma
Welcome to an exceptional dining experience you will never forget. Discover the creative Mediterranean cuisine paired with sophisticated central Europe touches, explore the rich Aegean culinary tradition in our 5-course & 2-dessert degustation menu and try our top chef's confidently presented contemporary techniques that showcase the purity of fresh, locally sourced ingredients on a majestic location overlooking the endless blue Aegean archipelago.
Edesma is not part of the all-inclusive package, but members of the all-inclusive package receive a discount voucher.
Edesma Restaurant operates from 19.00 to 22.00
Cuisine: Traditional Greek
Οuζo Restaurant
Here you will breathe in the original Greek summer fragrance: anise-flavoured Ouzo, a famous Greek distilled drink that can be enjoyed with your meal or with small bites traditionally called "mezedakia".
All around Greece you will find traditional establishments, Taverns or Ouzeries, serving local delicacies paired with strong Ouzo and Tsipouro, distilled spirits from locally grown grapes. At Gennadi Grand we re-created the original Greek tavern experience, serving Ouzo and local treats in a peaceful, Mediterranean setting under the hot sun that will relax your senses, the Greek way!
Οuζο Restaurant serves daily from 19.00 to 22.30 (last order 21:30)
Type: Steakhouse - Grill Restaurant
στK Grill Restaurant
Protein afficionados and lovers of tender, delicious prime grilled meat will be delighted to find a little piece of Paradise on earth right here at Gennadi Grand Resort: στΚ Grill Restaurant !
στΚ's menu is characterized by sophisticated eclecticism and contains aged premium grass-fed cuts from selected ranches, prepared with procedures such as meat hanging and dry aging for the best possible outcome for your palate. In-house-made sauces and all kinds of toppings to choose from, green cuts and tasty first courses create an integrated experience for meat lovers; a selected wine list and perfectly chilled beer are the perfect match to an unforgettable night out.
Sea food & Vegetarian options are also available.
στΚ Grill Restaurant serves daily from 18.30 to 23.00 (last order 21:45)
Location: Lobby
Grand Bar
The Grand Bar at Gennadi Grand Resort is your go-to place for everything, ideal for drinks and guest mingling.
You will find it at the lobby area of the main building, where you can lounge on its spacious terrace that will convert your evenings to a memorable experience, with the soft melodies of the live piano, the international or local shows paired with incredible cocktails and refreshing drinks.
Here you will find an extensive wine list including local and international wines, daily drink offers and a selection of classic and signature cocktails for every palate. Let our experienced mixologists surprise you with unique recipes that will take you all around the world in one sip! Here your nights will become deliciously intoxicating!
The Grand Bar of Gennadi Grand Resort operates daily from 17:30 to 01:00
Serves: Refreshing Beverages & Cocktails
Wet Pool Bar
Light lunch, healthy bites, homemade comfort food: when you are swimming or sunbathing under the warm sun and you feel hungry, crave something healthy and refreshing or just need a break, head over at the Wet Bar, the Pool Bar that has everything you might possible want by the pool.
Invigorating body and soul drinks and coffee, healthy or decadent snacks and tasty little pleasures that will keep you company for a day full of sun and fun by the water!
Wet Pool Bar operates daily from 12:30 to 17:00 (Lunch) and from 10:00 to 00:30 (Pool Bar)
Serves: Snacks & Beverages
O Bar
While you are relishing the warm energy of the sun and the calming water expanse of Gennadi Grand Resort's main pool, the O Bar is right next to you for a delicious pit-stop of energy and freshness offering light snacks and selected dishes, topping up your wellbeing levels.
Juices freshly extracted from seasonal fruit, iced coffees and drinks along with tasty snack choices go perfectly hand in hand with a warm summer day under the sparkling Greek sun.
O Bar services are available by the pool area exclusively on our online ordering application.
Ο Bar operates daily from 11:30 to 17:30
Serves: Selection of Wines, Drinks & Cocktails
Grevin Bar – Gin Club
Lift up your spirits by joining our exclusive 'Gin Club'
For gin enthusiasts, or for those who are just discovering its charm, our 'Gin Club' offers 25 premium brands of gin and takes full advantage of the timeless spirit's versatility. Combine flavors inspired by Japanese cuisine with refreshing mixes and travel the world in one sip. Ideal for any occasion.
Grevin Bar – Gin Club is not part of the all-inclusive package.
Grevin Bar operates daily from 19:00 to 01:00 (bar) and 19:30 – 23:30 (food service)